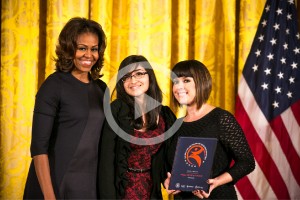 First Lady Michelle Obama presented the 2013 National Arts and Humanities Youth Program Award to El Paso's Creative Kids Project AIM (Arts in Motion), a visual arts program for pediatric oncology patients will be recognized for its effectiveness in developing learning and life skills in young people by engaging them in the arts or humanities on Friday, November 22, 2013 at a ceremony at the White House East Room. The National Arts and Humanities Youth Program Award is the highest national honor awarded to such programs. "We are honored for this program to be recognized by the White House, President and First Lady," said Andrea Gates-Ingle who with her husband, Stephen Ingle, co-founded this program in 1999 at Providence Children's Hospital. Project AIM has since expanded to include both children's hospitals in El Paso, TX.
Miranda Luna, a participant in Project AIM, accompanied co-founder and Executive Director of Creative Kids, Andrea Gates-Ingle receive the award at the White House. In 2008, Miranda was a tender 10 years of age when she was delivered the news that she had Leukemia. Faced with a devastating diagnosis, Miranda immediately started treatment at Providence Children's Hospital. It was then when she was first introduced to the Creative Kids hospital art program – Project AIM. Miranda gravitated towards the program and was always the first patient to be waiting for the art studio to be opened at the hospital. Whether it was painting, printmaking or dabbling in Photoshop and Illustrator, Miranda loved to be immersed in the art program as she said it helped to melt away her fear and anxiety of not knowing what the next day may bring. Over the years, Miranda has transformed from a shy young lady into a confident, outspoken young woman who, six years later, still loves to be engaged in the Creative Kids art program. The ceremony also included a speech by 12-year-old Danashiya Pritchard, a "Creative Kid" and participant in Project AIM in El Paso, Texas. Project AIM reaches over 1,000 children battling cancer in two area hospitals, offering art-mediated therapy in painting on canvas, printmaking, and graphic arts, among other art forms. Over Project AIM's fourteen-year history, more than 250 pieces of the patients' artwork have been showcased in more than six venues in the El Paso area.
Through these programs, young people are discovering their creative voices, developing a stronger sense of who they are as individuals, and gaining a deeper understanding of the world around them," wrote Mrs. Obama in the program for the award ceremony. "And, as young people navigate today's challenges, the programs we are honoring offer safe harbors that cultivate enthusiasm for learning, support academic achievement, and promote college readiness."
Creative Kids was one of twelve organizations chosen from a pool of more than 350 nominations and 50 finalists. The award also comes with a $10,000 grant. The awards are administered by the President's Committee on the Arts and the Humanities (PCAH), in partnership with the National Endowment for the Arts (NEA), the National Endowment for the Humanities (NEH), and the Institute of Museum and Library Services (IMLS).
Congratulations Creative Kids!
For more information about the National Arts and Humanities Youth Program Awards,
visit www.pcah.gov.